AGV Automatic Guided Vehicle
AGV Automatic Guided Vehicle
Description
System
Parameters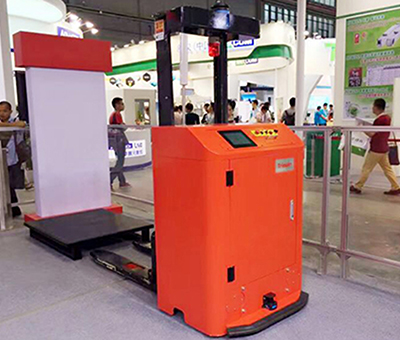 The Automated guided forklift truck features DC 24V/210AH battery power system, single steering and driving wheel, hydraulic pressure lifting, laser navigation,and wireless communication. The main advantages are:
1.Laser navigation system is flexible and can be applied to operations of multiple and complex closed routes tracking and multi-stations material loading and unloading.
2.System level flexibility ensures of easy modifications of routes to track and simple configurations of operation stations with minimum downtime in production.
3.Compliance to 5S management and positioning error within ±10mm.
4.Efficient and dynamic operations reduce workload for workers.
5.Significant Impovement of automated logistics system, crucial for building an intelligent factory.
Description
The weld frame of the truck is made of Q235 plank and profiles. Its strength and stiffness are ensured through welding and polishing. The surface treatment after welding ensures the quality of appearance. The reliability is guaranteedby kinematics simulation and stress analysis during designs.

The fork mechanism is composed ofone pallet fork, one lifting cylinder, lifting chains andone door frame and other trivial elements. These constituents are purchased from professional vendors to meet various requirements, for instance, load capacity and maximum lifting height. In addition, among manifold safety measures security sensors are geared to guarantee absolute safe operations of AGV.

The laser navigationapproach requires no more construction work on the factory floor, and offers fast and efficient navigation. Thanks to adopting WIFI communication, AGV operating status, location can be reported back to the WIFI terminal easily and conveniently.
Diving System
* The AGV is driven and steered by a single wheel. The drive unit is of Italian brand, METALROTA which is enjoying a great reputation in automation filed, thousands of AGVs equipped with its drive units.
* A driving motor and a steering motor enable AGV to move forward, backward, steer and rotate, suitable for all applications.
* Controllers for the driving motor and the steering motor are produced by CURTIS, a well-known US brand.
* The driving and steering motors are energized by AC power, high efficiency of power utility, free of maintenance, more reliable and extended lifetime.
Control System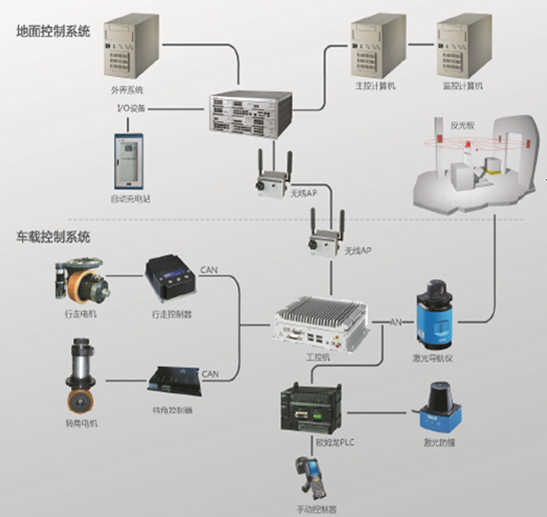 Safety System
* Non contact protection: Non-tactile protection: safety laser and photoelectric switch. Safety laser installed in the front of vehicle has its safety range, partitioned into decelerating range and stopping range.When the safety laser senses obstacle in the decelerating range, AGV woulddecelerate according to pre-setting ramp.; while when obstacle is detected in stopping range, AGV stops immediately, within a very short time. Further, there are two photoelectric switches in the back of the fork. If AGV is closing on an obstacle, it will stop to avoid potential collision.
* Tactile sensors: A soft ring. When an obstacle touches the ring, it will trigger the AGV to stop.
* Emergency stop: AGV will stop upon receiving emergency stop signal.
| | |
| --- | --- |
| Drive type | ingle steering and driving wheel |
| Body structure | High strength steel plate welded body |
| Navigation type | Laser navigation |
| Walking | Forward/backward/steering |
| Maximum load | 1000kg |
| Drive speed | 5-60m/min |
| Fork lift height | 1600mm |
| Lift power | Hydraulic pressure |
| Min steering radius | 不大于1500mm |
| Battery | DC24V/210AH/ |
| Non-tactile safety sensors | Lasers, Photoelectric |
| Tactile safety sensor | Contact safety ring |
| Walking/Stopping accuracy | ±10/±5 |
| Size (L x W x H)(mm) | L1900*W950*H2100/Accept custom |