Date/Jujube Processing Line
Date/Jujube Processing Line
DESCRIPTION
CUSTOMER CASES
1.Description of Jujube/Date Processing Line
Suitable for all kinds of dates(palm date, red date), hawthorn processing, can produce dried date, dry fresh date, date powder, date juice, juice concentrate. This production line is mainly composed of air blower, sorter, grading machine, air drier,nuclear machine, smasher, extraction tank, clarification machine, sterilizer and filler. This production line design features advanced design idea, high degree of automation; Main equipments are all made of high quality food grade stainless steel, accords with the hygienic requirements of food processing.
2.Features of Jujube/Date Processing Line
* Capacity varies from 3 tons/day to 500 tons/day.
* Able to fruit with similar processing characteristics such as palm date, red date, hawthorn.
* After cleaning, drying, classification can be processed into plastic bags of dried fruit, or be processed into doypack after crushing and sieving.
* Can be made into juice and concentrated juice after extraction,clarification machine, pulping, enzymatic hydrolysis, separation, concentration and sterilization.
* The whole production process controlled by PLC, electrical components are all imported products, as a result to save labor and greatly reduce operating technical difficulties.
* Low temperature vacuum concentration, guarantees the nutrients and flavor, and greatly save energy.
* Tubular sterilization and aseptic filling to guarantee the product aseptic condition.
* Build-in CIP system to make clean easy
* Material contact part of the whole system is 304 stainless steel material, fully meets the food hygiene safety requirements.
3.Specification of Jujube/Date Processing Line
| | |
| --- | --- |
| Raw material | Fresh(or dry) palm date, red date, hawthorn |
| Finished product | Dry fruit,dry fresh date, fruit powder, fruit juice, juice concentrate |
| Capacity range | 3 tons / day -500 tons / day |
| Brix of juice | 10-12Brix |
| Brix of concentrate | 60~72Brix |
| Package options | Doypack/ aseptic bag/glass bottle/PET bottle |
| Design capacity | According to clients' requirements |
4.Flow Chart of Jujube/Date Processing Line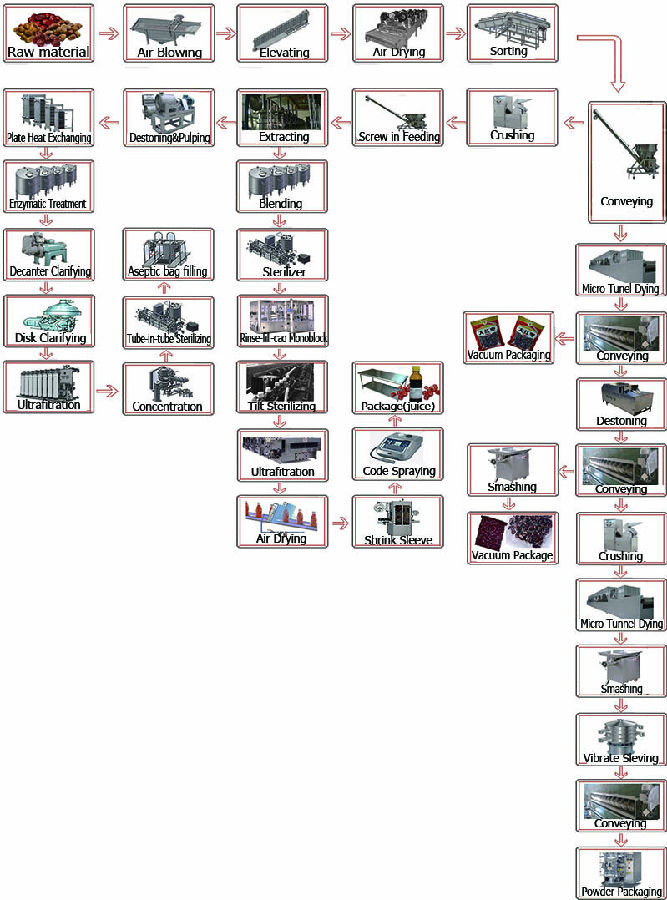 5.Related Machine
6.Type of End Product
7.Package Style